BLACK FRIDAY SAVINGS!
GET A

$250 GIFT CARD*

PLUS a FREE Phonak TV Connector** with purchase of a pair Phonak Lumity 70 or 90 level hearing aids through 11/30
FREE Service from our Doctors of Audiology and Licensed Hearing Aid Providers
FREE Adjustments able to be done anywhere in the world for the life of your hearing aids
HUNDEREDS of 5-Star Reviews from our patients with our Satisfaction Guarantee
Call for a FREE Consultation with one of our Licensed Hearing Aid Specialists
855-394-3274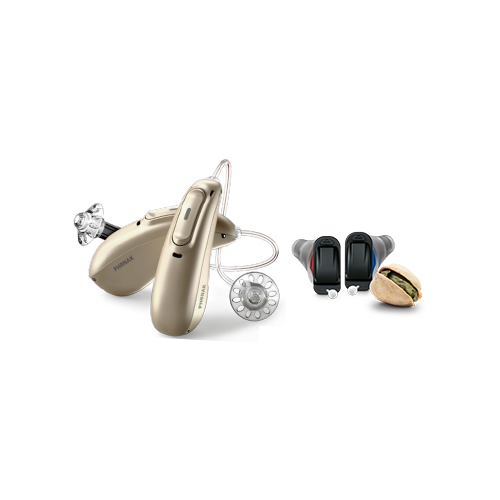 Finally, Hearing Done The Right Way
We believed hearing should be easy, accessible, and affordable. So we did it.
By removing the overhead, we were able to cut costs and pass our savings on to you, where it matters. The sound of your grandchildrens voices shouldn't be out of reach. We've made sure it isn't.

Our customers save an average of $2900 per order
We are changing the hearing aid industry to offer a different way to buy hearing aids and save thousands. Our business model is designed to save customers $3000-$5000 on average for a pair of hearing aids, along with providing high quality service that our customers worldwide can rely on. We've helped thousands of happy hearing aid wearers find the right hearing aids for the right price. We offer programming, maintenance, cleaning services, warranty processing and replacement parts, we do it all.
"I saved about $5,000"

The Phonak Paradise hearing aids are my fifth set of hearing aids and by far the best. They produce sound more natural than any of the previous ones. Plus I saved $5,000.00 dollars from what I was quoted from a brick and mortar store. I would recommend Online hearing to anyone who's considering hearing aids their customer service is outstanding! - Fred T.
"The customer service has been outstanding"

I was skeptical ordering hearing aids online. The experience of working with Online Hearing was absolutely wonderful and quickly got rid of any fear I had. The customer service had been outstanding and working with David to get my aids ordered was so easy. He answered all my questions and was able to take care of a feedback problem I had when I first received them. I have already recommended Online Hearing to a neighbor. - Mary S.
"I couldn't believe how much we saved"

Bought some hearing aids for my father and I couldn't believe how much we saved over buying from the doctor. We also had a great experience with Online Hearing getting them set up, they spent an hour with us on the phone and even made an adjustment across the internet! I would highly recommend them. - Alfred W.
Our Top Selling Hearing Aids